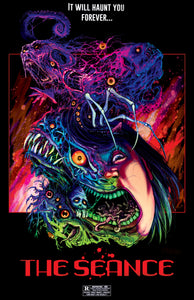 Image with text
The Seance Brand is an Independent Horror Clothing Company owned by Tattoo Artist Paul Acker.
All t-shirts and raglans are NOT screen printed! So you can say goodbye to hard, scratchy designs that crack! The designs are printed right into the fabric, on the softest shirts available, making them the most comfortable horror shirts in your collection.
Each shirt is printed to order with only 5-7 days processing time. Seance Brand is truly clothing for Horror lovers. All designs by Horror Artists for Horror Fans. Stay Spooky!